Decarbonization / Prototype
The Paris Agreement, an international framework for combating global warming, calls for reducing greenhouse gas emissions to virtually zero in the second half of this century.
The Japanese government has declared that they are planning to achieve a carbon-neutral, decarbonized society where whole greenhouse gas emissions are reduced to zero by 2050 "the 2050 Declaration on Carbon Neutrality", and studies on concrete measures to achieve this goal are accelerating rapidly.
We, Nikki-universal, are researching the use of hydrogen, ammonia, and synthetic methane, which are expected to be the next generation of energy without carbon dioxide emissions. We are also developing catalysts in the field of "carbon recycling," which recovers and reuses carbon dioxide.
We also contribute to realizing a decarbonized society through our custom catalyst business, which includes developing catalysts, customization, and manufacturing catalysts in collaboration with our customers.
We offer the following catalysts and survice to reduce global warming.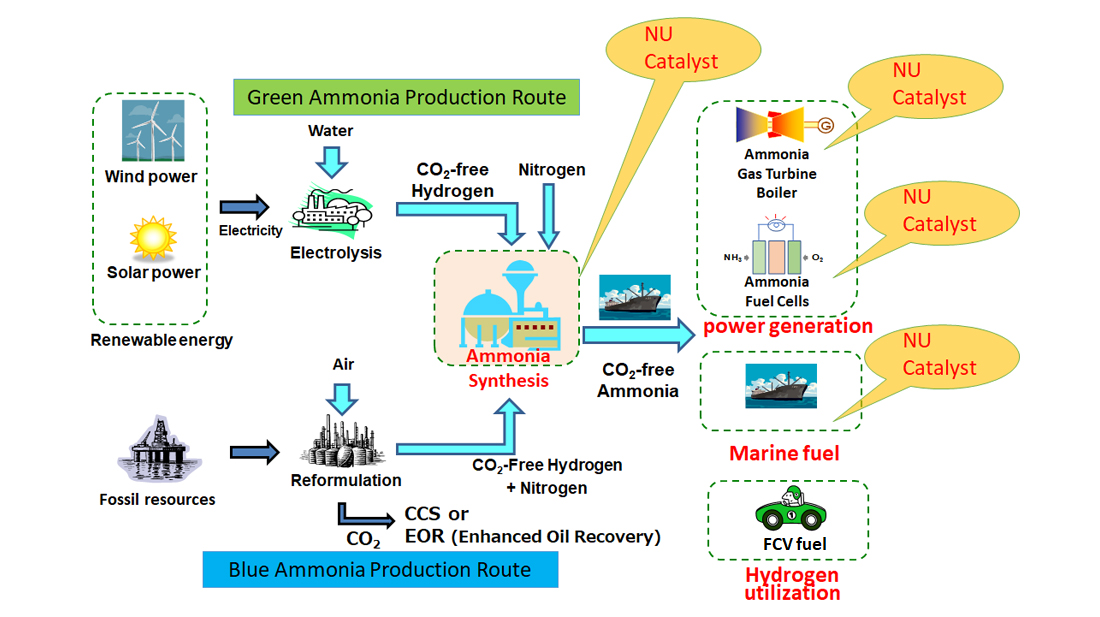 Catalysts for global warming countermeasures or GHG Catalyst(Leaked NH3(Ammonia) destruction Catalyst、Methane destruction catalyst, N2O(Dinitrogen oxide) Destruction catalyst, CO2 (carbon dioxide) adsorbent/desorbent)
Fuel Cell (Desulphurization catalyst, Steam Reforming Catalyst, Self-thermal reforming catalyst, CO shift catalyst, CO selective oxidation catalyst)
Methane synthesis and reforming, Ammonia synthesis and reforming
Custom Catalysts (Material designated by the customer, Synthesis and complexation, Extrusion molding Oscillating granulator, Coating, Metal supported technology)
Contact Sales Department
| | |
| --- | --- |
| Department | Business Innovation Office |
| Contact Form | |
| TEL | 81-3-5436-8484 |
| FAX | 81-3-5436-8680 |