Our oxidation catalyst (1st Catalyst) is used for exhaust gas heat recovery in enamel electric wire oven and has experienced for more than 30 years.
The following is a typical performance data of 2nd catalyst which was installed in addition to the original 1st catalyst.
Please examine 2nd catalyst for bad smell improvement.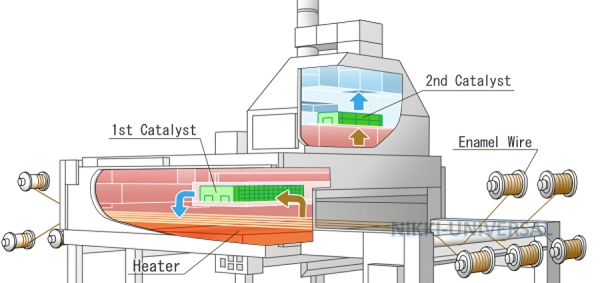 Catalyst Performance
1st Catalyst Inlet
2nd Catalyst Inlet
2nd Catalyst Outlet
Odor
Concentration
7,300
2,300
230
Xylene
23.3ppm
3.4ppm
0.1ppm
Phenol
4.1ppm
Not Detected
Not Detected
Cresol
4.1ppm
Not Detected
Not Detected
THC-2
3,484ppmC
380ppmC
10ppmC
*Catalyst : NM / NHX(VOC Treatment)
*Pretreater : NC(Catalyst Poison Measures)
Application Example for Enamel Oven(Horizontal Oven)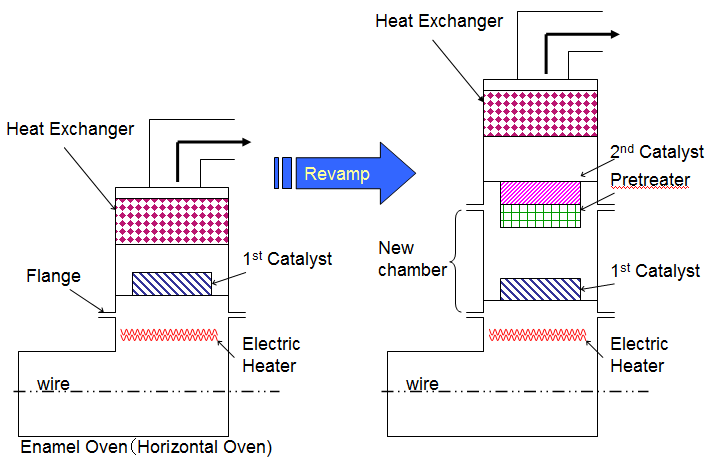 Product Description
Performance Data
Contact Sales Department
| | |
| --- | --- |
| Department | Environmental Catalyst Div. |
| Contact Form | |
| TEL | 81-3-5436-8479 |
| FAX | 81-3-5436-8680 |