Comparison of Various Exhaust Gas Treatment Methods
Catalytic Combustion System (CCS), Direct Flame Incinerator (DFI), and Regenerative Thermal Oxidizer (RTO) are well known as combustion methods to treat exhaust gases. In contrast, active carbon adsorption, solvent recovery, chemical washing, biological deodorizing, etc. are represented as non-combustion methods.
DFI(Direct Flame Incinerator)

Temperature:700~800 degC
CCS(Catalytic Combustion System)

Temperature:200~400 degC
RTO(Regenerative Thermal Oxidizer)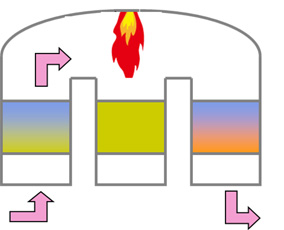 Temperature:750~900 degC
Other Methods
Active Carbon Adsorption
Solvent Recovery
Chemical Washing(Wet Scrubber)
Biological Deodorization
CCS
DFI
RTO
Temp degC
200~400 degC
700~800 degC
750~900 degC
Running Cost
○
Middle
×
High
◎
Low
VOC Conversion
◎
Excellent
◎
Excellent except CO
◎
Good
Thermal NOx
◎
Not an issue
○
Generation of NOx, CO
○
Generation of NOx
Odor Treatment
◎
Best
○
Better
○
Better
Size
◎
Small
○
Middle
×
Large
Remarks
Catalyst poison measures
Generation of NOx, CO High running cost
Generation of NOx Need care of dust Large foot print Heavy weight
A catalytic combustion system can be applicable to any exhaust gases by taking measures against catalyst poisons. Moreover CCS can be applicable to odor treatment without generating thermal NOx or CO. N-U offers various catalysts for CCS with high performance and low-temperature activity.
Contact Sales Department
| | |
| --- | --- |
| Department | Environmental Catalyst Div. |
| Contact Form | |
| TEL | 81-3-5436-8479 |
| FAX | 81-3-5436-8680 |