Recently, the products contaminated with fungi in the process of manufacturing foods, drugs and cosmetics may cause infection and skin disorder.
If a person who has allergy constitution to fungi relates to such products, there is a possibility to have some allergic disorder such as asthma, certain dermatitis, and rhinitis.
It has been understood that spores of fungi germinate and scatter their hyphae causing secondary contamination.
A conventional HEPA filter was analyzed after using for one year, and secondary contamination from fungi was discovered on the filter media of it as shown in the photograph no.1 below.
Enzyme Filter, however, shows fungistatic effect against hyphae from spores of fungi, and it did not growth as shown in the photograph no.2.
Photo 1. Penicilium-Regrowth on Conventional Filter Media by SEM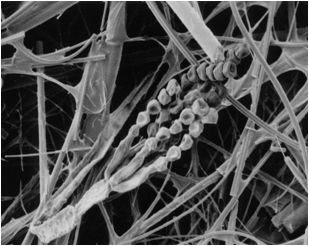 Photo 2. Dissolved hypha on Enzyme Filter Media by SEM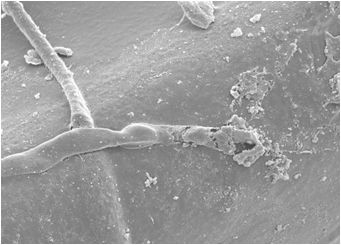 Contact Sales Department
| | |
| --- | --- |
| Department | Environmental Catalyst Div. |
| Contact Form | |
| TEL | 81-3-5436-8491 |
| FAX | 81-3-5436-8680 |