N-U catalysts have been applied to ovens cleaning for various applications and contributed to achieve good quality control and energy saving. As one of the good examples, our catalysts can effectively remove sublimates (Oligomer), flux, tar, etc. in ovens and contribute to high quality of products, reduction of maintenance frequency, and energy saving.
Advantages of N-U catalysts
Energy saving: Expected to reduce the fuel consumption thanks to heat of reaction.
Cost saving: Expected to reduce the cleaning cost due to reduction of sublimate and its frequency of cleaning.
Easy maintenance: Expected to improve production efficiencies and continuous operation due to reduction of oven cleaning.
Increased productivity: Expected to reduce defective products and improve their quality.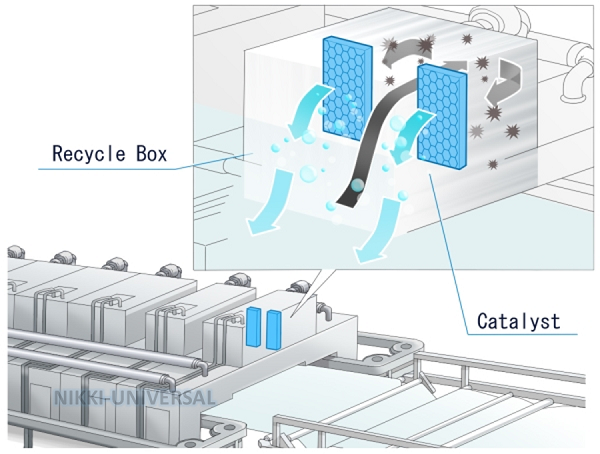 If you have any fouling issues with your ovens and are looking for solutions related to quality control, energy saving, etc., please feel free to contact us.
Commercial References
N-U have a lot of experiences having more than 100 commercial units for the above applications worldwide. We are sure that N-U can provide the best solution to you. N-U also offers exclusively specified catalysts for UOP SINCO SSP process.
Contact Sales Department
| | |
| --- | --- |
| Department | Environmental Catalyst Div. |
| Contact Form | |
| TEL | 81-3-5436-8479 |
| FAX | 81-3-5436-8680 |